eCommerce Platform Development in Australia
We created a platform for ARMORMAN 4X4 to present the excellence of their brand and products in cyberspace.
Online Business: Armorman 4×4
The CEO of ARMORMAN 4X4 decided to enter have an online business in cyberspace when he was sure that what they sell would exceed the customers' expectations and would be distinguished from similar products sold by the competitors.
With a combination of knowledge, a Ph.D. in autonomous cars, and 20 years of hard work in automotive design and manufacturing, ARMORMAN 4X4 stands out as a specialized brand in designing and manufacturing 4X4 car accessories suspension upgrades and exterior decoration.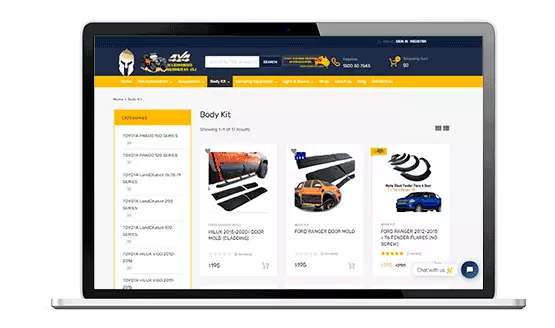 As they have expanded their online business to provide more 4WD auto parts
along with off-road and camping equipment, they wanted a web application not just for a way to sell more but a showcase for their customized products and service. The web application would promote their brand, which could make it possible to connect with their target audience, build customer loyalty, and increase sal.
The decision-makers at ARMORMAN 4X4 genuinely knew no matter how interesting, and cost-effective their products and services are, an outstanding web application to promote and sell them was a necessity.
So, we designed an e-commerce system that would meet their customers' expectations. Ease of navigation, fast load times, strong user experience, simplicity, search functionality, high-quality images representing the products and services, and a good checkout experience are some of our solution's benefits for our clients.
As a result of our cooperation, ARMORMAN 4X4 is equipped with customized e-commerce to effectively deliver its brand marketing message to its target customers. They increased repeat customers and met hundreds of new customers.
We Are Ready to Prove What We Claim
Click the Button Below to Let Us Know What You're Looking for, and We Will Get Back to You Within 24 Hours.